Orleans Interior House Painting Services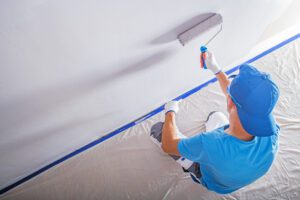 The Best Interior House Painting Company in Orleans
Welcome to our professional interior house painting services in Orleans! We understand that your home is a reflection of your personality and we aim to provide you with the best painting services to bring out the beauty of your space. At our Orleans Painting company, we have a team of highly skilled painters who are dedicated to providing top-notch services to our clients. Our painters have years of experience in the industry and are equipped with the latest tools and techniques to ensure a high-quality finish for your home.
Benefits of Hiring Professional Painters
When it comes to painting the interior of your home in Orleans, hiring a professional painter can provide many benefits. Not only will you save time and effort, but you can also enjoy a high-quality finish that will enhance your home's aesthetic appeal for years to come. Professional painters have the expertise, tools, and materials to ensure that your painting project is completed efficiently and effectively. They can also offer advice on color schemes and design options to help you achieve your vision for your home. So if you're looking to update your Orleans home's interior with a fresh coat of paint, consider hiring professional painters to make it a stress-free and rewarding experience.
Types of Interior Painting Services Offered
We offer a variety of interior house painting services in Orleans to cater to all your needs. From basic wall painting to intricate designs, we have got you covered. Our services include:
Wall painting
Ceiling painting
Trim and molding painting
Accent wall painting
Stucco and texture painting
Cabinet painting
Why You Should Choose Our Interior House Painting Services in Orleans
If you're thinking about giving your home a fresh new look, choosing our interior house painting services in Orleans is the perfect way to transform your living space. Our team of skilled painters have years of experience working with a variety of styles and colors, from classic neutrals to bold and adventurous hues. Not only will our services enhance the overall aesthetic of your home, but our attention to detail ensures that your interior paint job will last for years to come. From prep work to the final coat, we take pride in providing top-notch service that exceeds your expectations. So why settle for a drab interior when you can elevate your home with our Orleans house painting services?
Top Reasons to Invest in Interior Painting Services in Orleans
If you're a homeowner, you understand the importance of keeping your house looking and feeling beautiful. One way to enhance the aesthetics of your home is by investing in interior painting services. While it may seem like a simple task, hiring professionals can make all the difference in achieving stunning results.
Here are the top reasons to invest in interior painting services in Orleans:
1. Enhance the Overall Look of Your Home
A fresh coat of paint can completely transform a room and make it look brand new. With the help of professional painters, you can choose the perfect color scheme that complements your home's style and décor. They also have the expertise to use different techniques and designs, such as accent walls or faux finishes, to add visual interest and elevate the overall look of your home.
2. Increase Property Value
Investing in interior painting services is a great way to increase the value of your property. A well-maintained and visually appealing home will attract potential buyers and can justify a higher selling price. Plus, professional painters use high-quality materials and techniques that can add to the longevity of the painted surfaces, ensuring your investment pays off in the long run.
Painting an entire house is a time-consuming task. Hiring professionals allows you to sit back and relax while they handle all aspects of the painting process, from preparing the walls to applying multiple coats of paint. This frees up your time and energy to focus on other important tasks, all while ensuring the job is done efficiently and with a professional touch.
4. Expertise and Experience
Professional painters in Orleans have years of experience and expertise in their field. They have the necessary skills to achieve seamless finishes, fix any imperfections, and handle any challenges that may arise during the painting process. This level of expertise ensures that your home is painted to perfection, with attention to detail and precision.
Painting can involve working at heights or with hazardous materials, such as lead-based paint. Professional painters have the proper training and equipment to ensure a safe and secure work environment for both themselves and your property. They also follow safety protocols to prevent any accidents or damage, giving you peace of mind throughout the process.
When it comes to painting, quality is key. Our Professional Orleans painters have access to high-quality materials and tools that ensure a superior finish for your home. They also have the knowledge and skills to mix colors accurately, create custom finishes, and provide professional advice on color selection and paint type. The result is a long-lasting, flawless paint job that will enhance the appearance of your home.
While it may seem more expensive to hire professional painters initially, it can actually save you money in the long run. They have the tools and expertise to get the job done efficiently, reducing any potential mistakes or need for touch-ups. Additionally, they can offer cost-effective solutions, such as recommending the best type of paint for your budget and avoiding unnecessary products or services.
Our Orleans Painting Company is trusted by Orleans homeowners
In conclusion, investing in interior painting services in Orleans is a smart choice for any homeowner or business owner. With the numerous benefits it offers, from enhancing aesthetics to increasing property value, there is no doubt that professional painting can greatly improve your space. breaking the bank. So why wait? Consider investing in interior painting services today and enjoy a fresh, updated space that you can be proud of. Thank you for reading and happy painting! So if you are considering updating your home or office, don't overlook the importance of interior painting.
8:00 AM – 17.00 PM
Monday – Sunday