Orleans Commercial Painting Services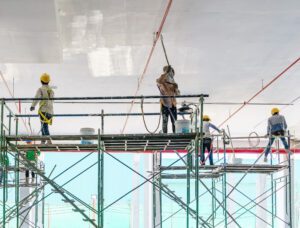 Why Choose our Professional Painting Company for Your Commercial Painting Needs in Orleans and Ottawa?
As a business owner or commercial property manager, you want to ensure that your building looks its best both inside and out. One of the best ways to take your commercial property's appearance to the next level is by investing in a professional painting service. Here at our Orleans painting company, we are proud to offer high-quality commercial painting services to businesses located in Orleans near Ottawa and surrounding areas.
We Have Experience in the Commercial Painting Industry
With years of experience in the commercial painting industry in Orleans, our team of professionals painters has the knowledge and expertise needed to handle even the most challenging commercial painting projects. We understand the unique needs of commercial property owners and managers and can tailor our services to meet those needs.
We Use High-Quality Paint and Materials
In addition to having experienced professionals painters on our team, we also use only the highest quality painting materials. By using top-quality paint, we ensure that your commercial property's finish will have long-lasting durability, enhancing your property's appeal for years to come.
We Offer a Range of Painting Services
Get a Free Quotation for our Commercial Painting Services in Orleans
Our highly skilled team of painters in Orleans takes pride in delivering the best quality painting services to businesses and commercial establishments throughout Orleans. Whether you need a fresh coat of paint for your retail store, office building, or restaurant, we've got you covered. Our team is committed to delivering outstanding results that meet and exceed your expectations. From surface preparation to the final coat, we use only the finest quality paints, which ensures that your paint job remains vibrant and lasts for years to come. Connect with us today to learn more about how we can help give your commercial space a fresh new look with Orleans Commercial Painting!
8:00 AM – 17.00 PM
Monday – Sunday