Exterior House Painting Services in Orleans, Ottawa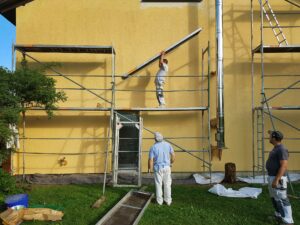 Best Exterior House Painting Company in Orleans
Your home is your sanctuary; it is the place where you come to relax and spend time with your loved ones. It's only natural to want it to look its best, both inside and out. While many homeowners focus on the interior of their homes, the exterior is just as important. The paint on your home's exterior plays a crucial role in not only its aesthetic appeal but also its protection against the elements. In Orleans, Ottawa, there are several exterior house painting services available to help you achieve the look you desire. In this page, we will explore some of the benefits of hiring professional painters, the types of services they offer, and how to choose the right Orleans painting company for your project.
Benefits of Hiring Professional Painters
Painting the exterior of your home may seem like a simple task, but it is not for the faint-hearted. It can be a time-consuming, complex, and potentially hazardous process. It's also challenging to achieve a uniform finish, especially if you lack the experience and necessary equipment. By hiring professional painters, you save yourself time, stress and ensure that your home's exterior is painted correctly. Additionally, our Professional painters in Orleans provide you with advice on suitable colors, finishes, and the best type of paints to use.
Types of Painting Services Offered
Our  professionals painters in Orleans offer a variety of services that cater to every homeowner's needs. Some of these services include;
1. Power washing – This service is essential as it involves cleaning the exterior of your home thoroughly to get rid of any dirt, grime, or stains that may have accumulated over time.
2. Paint removal – Professional painters can remove any existing paint from your house, so it can have a new fresh look.
3. Staining – Exterior house painting services offer staining services for homeowners who prefer the natural look of wood.
4. Painting – The primary service offered by professional house painters is painting the house. They use superior quality paints that last longer than regular ones.
5. Trim Painting – This service involves painting the trim and outlining of your home to accentuate certain features.
How to Choose the Right Company for Your Painting Project
It's essential to choose the right Orleans exterior house painting company when looking to breathe new life into your home. Here are some factors you should consider before hiring a professional painter;
1. Reputation – Research on the exterior house painting company's reputation and ask around for recommendations from family and friends.
2. Experience – Look for a company that has been in the business for a long time and has experience in the type of painting project you require.
3. Licensing – Choose a painting company that is licensed and insured to protect yourself from any accidents that may happen on the job.
4. Cost – Compare the costs of services from different painting companies and choose the one that suits your budget.
5. Quality of Work – Always look at the portfolio of previous projects to assess the quality of work that the painting company provides.
Get a Free Quotation for Your Exterior House Painting in Orleans
In conclusion, the exterior of your home is the first thing people see when they visit or pass by. Therefore, it's important to give it the attention it deserves. Exterior house painting services in Orleans, Ottawa provide an excellent opportunity for homeowners to breathe new life into their homes. These painting services offer a range of painting services, including paint removal, power washing, and trim painting. By hiring a professional painting company, you not only save time and effort but also ensure quality work done to your satisfaction. Ensure that you choose the right painting company by considering factors such as reputation, experience, licensing, cost, and quality of work. With the right painting company by your side, you can give your home's exterior the makeover you've always wanted.
8:00 AM – 17.00 PM
Monday – Sunday