Orleans Deck Restoration and Painting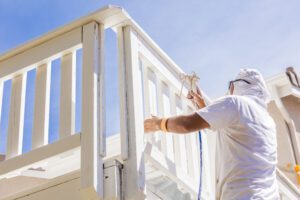 Revitalize Your Deck and Patio with our Orleans Painting Company
Your deck is where you spend most of your time when you are outdoor, and it's important to keep it in top shape. A fresh coat of paint on your patio or a new color for your deck can make a huge difference in how your home looks and feels. As an Orleans Painting company, we are here to help you revitalize your home and take pride in your living space. Our team is dedicated to providing high-quality services that will leave your home looking and feeling its best.
Deck and Patio Painting in Orleans
From hot summer days to harsh winter weather, your deck can become worn out and damaged over time. Our deck restoration services can breathe new life into your outdoor space. We offer sandblasting, staining, and painting services to bring your deck back to life. Our Orleans Painting professionals use high-quality equipment and products to ensure that your deck looks its best for years to come.
Painting Services in Orleans and Ottawa area
Painting
can completely transform your home's appearance. Whether you're looking to touch up your existing paint or completely change the color scheme of your home, our team is here to help. We offer both
interior
and
exterior
painting services, using only the best quality materials to ensure that your home looks great for years to come.
Sandblasting Services in Orleans and Ottawa
Sandblasting is a powerful way to clean and prep surfaces for painting or staining. Our team is trained to use this technique to clean and restore a variety of surfaces, from decks and fences to metal, brick, and concrete. Sandblasting can be a challenging process to master, but our professionals painters team in Orleans have years of experience under their belts to ensure that your surfaces are cleaned and prepped to perfection.
We offer Quality Painting Services and we are Trusted Professionals
At our Orleans Painting company, we pride ourselves on providing superior customer service. From the moment you contact us to the final walkthrough, our team is dedicated to providing open communication, fair pricing, and quality workmanship. We understand the importance of respecting your home and keeping the work area clean and tidy. Our team is committed to exceeding your expectations and delivering results that you'll love.
We believe that you should be able to trust the professionals working on your home. Our team consists of experienced and licensed painters, sandblasting experts, and deck restoration specialists who have passed strict background checks. We are fully insured for your protection, and we take the time to ensure that our team members undergo regular training to stay up-to-date with the latest techniques and trends.
Your home is your sanctuary, and we're here to help you transform it into a beautiful and inviting space. Whether you need deck restoration, painting, or sandblasting services, our Orleans Painting company is here to help. We strive to provide high-quality services that will leave you satisfied with the result. Get in touch with us today to schedule a consultation and learn more about how we can help you revitalize your home.
8:00 AM – 17.00 PM
Monday – Sunday